Click Here to Email Lee@bluestoneivory.com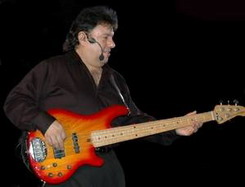 I started taking lessons on bass guitar at the age of 17 from bassist Bruce Turgon, of the very popular rock band FOREIGNER, and had my first professional (paying) gig when I was 18. My biggest influences of the time were Geddy Lee of RUSH, along with Mark King of LEVEL 42.  I decide to merge them together with a rock/funk feel, which was challenging mixing the two styles.
My first professional band was called ASYLUM, which was started in 1980 and played for 2 years. We played most area rock bars and this is where I did my very first studio recording.
In 1982 I started a progressive rock band called NO CAMOUFLAGE.  I left after only 15 months to play in several small live bands.  In 1983, I worked with a band called PERFECT STRANGER.  We had great musicians and a great following in our home town, so we took it out on the road which was an experience by itself but lasted only 2 short years after differences of opinion.
In 1985, I was offered a "real" paying gig playing some of the most difficult of music for me. I tried my hand in Jazz! The band was called THE TREND, headed by professional Composer and Maestro Mariano Longo.  (THE PLATTERS/GARY PUCKETT) Mariano taught me many of the values of playing and how the entertainment business worked.  We soon became a full blown show band. He still is a very close and dear friend.
After several years of travel I came back to Rochester to start a family.  After being home for only 2 weeks, I was called by a group called CENTRE STAGE.  I worked with the dearest friends that I have ever played with.  I left the band in 1994.
A month later, (1994) with the help of my friends Frank Shrout and Elvio Fernandas (now with Daughtry) I joined a new band called THE EAST COAST CONNECTION,  This group had outstanding sound and energy, it was new and fresh. Lead by Frank Shrout, the music and vocals were top notch. Our success would lead us to Asia and Japan and New Orleans. I left ECC to relocate to Cincinnati to help raise my daughter Catrina.
Shortly after relocating, I worked with THE VETTZ BAND, one of the nation's leading Vietnam Veterans band, headed by Vietnam veteran Wayne Barker Jr.  We played shows in Kokomo IN and the Mall in Washington DC for over 40,000 veterans..We worked along with Paul Revere & the Raiders and many other national acts. Sadly, Wayne passed away in June of 2017.
In early spring of 2001 while vacationing in San Diego, I was fortunate to receive a call from long time friend Maestro Mariano Longo.   He was now MD for GARY PUCKETT & THE UNION GAP. They asked me to join GP&UG.  Needless to say, it was an outstanding opportunity for me to work with such an accomplished singer with over 40 million records sold.  From 2001 to 2004, I played over 150 shows a year with Gary, such as Oldies Night in Stuttgart, Germany, Dick Clark's Oldies Shows at the Casino Rama and every corner of the US. Gary is very heartfelt and wonderful man with a great family and still a very dear friend.
In 2004 till current, I auditioned for a long time Cincinnati favorite group called BLUESTONE IVORY.  It was very easy to mix right in with the band.  With all the talent and combined national experience between all of us, I felt this would make a great and wonderful notch in my belt, not to mention that they are all fantastic people.  I enjoy the professionalism of the band but yet the easy flow that they possess and I am honored to be part of this wonderful group.
Thanks for reading,
 Lee